Why are the Bulls losing so many close games?
They are 2-9 in games within four points this season
The Bulls were an awful clutch team under Jim Boylen last season, and there was some hope that they'd be better under Billy Donovan. The overall product has improved dramatically, but their record is still a paltry 2-9 in games decided by four or less points.
There are a lot of weird circumstances surrounding these losses, and it would be a mistake to pinpoint it to one cause. For instance, they should have won their game against the Golden State Warriors but not for a blown five second call by the referees. They played good defense down the stretch against the Portland Trail Blazers, but Damian Lillard hit two unbelievable contested 3-pointers.
Still, many of these games were winnable. It's heartbreaking to think of how close this team could be with a little better luck and execution in the final few minutes.
There is some low hanging fruit that Donovan should be picking to get this team winning more late games. Here's what they should be looking at.
Get better game winning attempts
The Bulls have had six opportunities to tie or win the game with the ball, and LaVine has taken all six shots in those situations. The results have not been great:
Here are all of LaVine's game-winning attempts* this season, via
pbpstats.com
. *Less than 24 seconds, score within 0 to -3.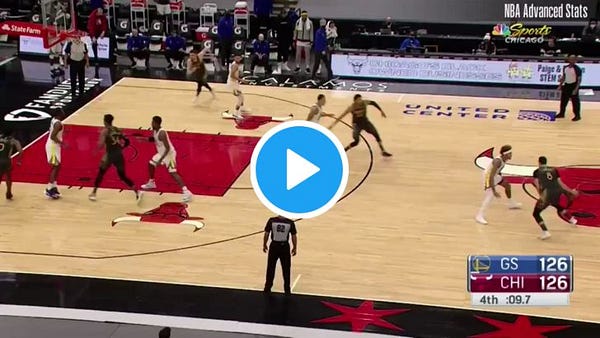 LaVine did make one potential game-winner, against the Golden State Warriors on a ghost screen and a clear out of the right side of the floor. But he left too much time on the clock, and the Warriors came back to hit a disputed 3 off a blown call to win the game.
The Bulls dialed up the exact same play against the Wizards on Monday night, but LaVine rejected the screen and drove directly into the teeth of the defense. Alex Len was waiting for him at the basket, as the play was designed to go the other way. LaVine did still get a pretty clean look at a layup, but missed.
From a process-oriented standpoint, LaVine has shown poor feel at the end of these games. He has a tendency to go too early, and he almost never passes the ball. This analysis from my former boss Jon Greenberg of The Athletic had some truth to it.
On some level, LaVine is talented enough to justify taking those types of shots. He will make some more in the future, making this story look bad. But I maintain that the team would have had more success if he passed a little more. Dating back to last year, he had only one pass in these situations, which resulted in a game-winning layup for Wendell Carter.
I'd like to see a little more diversity at the end of games. To his credit, Donovan did set up a game-winner for Lauri Markkanen to make a play earlier in the year, but the Bulls botched the execution.
Bad clutch offense
Zooming slightly out to the last five minutes of games, the Bulls' biggest problem is that their offense freezes up. They are ranked 17th in offense overall, but fall down to 23rd in clutch situations (defined by the NBA as the last five minutes of a five point or closer game).
The shift in offense is obvious when it happens. At times, the Bulls have kept their good habits. But they have also thrown their normal offense out the window and given it to LaVine to cook down the stretch. The problem with this approach is that it makes LaVine easy to guard.
The Bulls have built a good offense by putting aside their isolation tendencies and focusing heavily on ball and player movement. When teams know that LaVine is going to shoot it every time, they gear up on him and force him into tough shots.
The results have not been pretty. LaVine is shooting a horrid 34 percent from the field and 26 percent from 3 in the clutch.
Donovan seems to recognize this tendency in his team, and he called them out on it after their loss to the Wizards.
In an attempt to get his team more balanced, Donovan did draw up a nice ATO for Coby White with 32 seconds left in Monday's loss, attacking the slow-footed Alex Len and allowing White to make a downhill layup. That stopped a stretch where LaVine had taken 10 of the team's 17 shots, hitting just two of them.
This team needs to continue to run their normal offense and share the ball to finish games. As Donovan pointed out, that's not a knock only on LaVine. The rest of his teammates need to keep moving to create cuts for layups too.
To couch my LaVine criticism a little more, it's also important to note that the Bulls wouldn't be even close in any of these games without his stellar play in the other portions. He has been outstanding overall this year and has made significant growth most notably in his passing.
But it's also impossible to deny the numbers. He has been bad late in games when his focus narrows towards only scoring. Something needs to change, because trying this same approach over and over again is going to yield the same frustrating results.
Decent clutch defense
Onto brighter things. Last year, the Bulls were a historically bad clutch defense. This year, they're league-average.
They've mostly played small, with Thad Young at center, and they've been hyper-intelligent. Young and Garrett Temple have done wonders as a defensive pairing together, wreaking havoc and improvising with each other as only smart vets can. Young has also been a monster ballhawk. He's second in the league in steals in the clutch, and he has a ton of uncredited deflections as well.
The most impressive part of that group is their effort. Despite being very undersized, the Bulls have been one of the best defensive rebounding teams down the stretch of games thanks to their gang rebounding. One has to wonder how good they would be if they started with the same group that they finished games with.
If the Bulls can clean up some of their offensive tendencies, then there is no reason why they can't start winning more of these games. Donovan has stated before that learning how to win is a process, and it can be painful. He's right about the latter part. We will have to see about the former.