This time, Wendell Carter Jr. really is set to break out
Carter should benefit the most out of any player from the Bulls' coaching change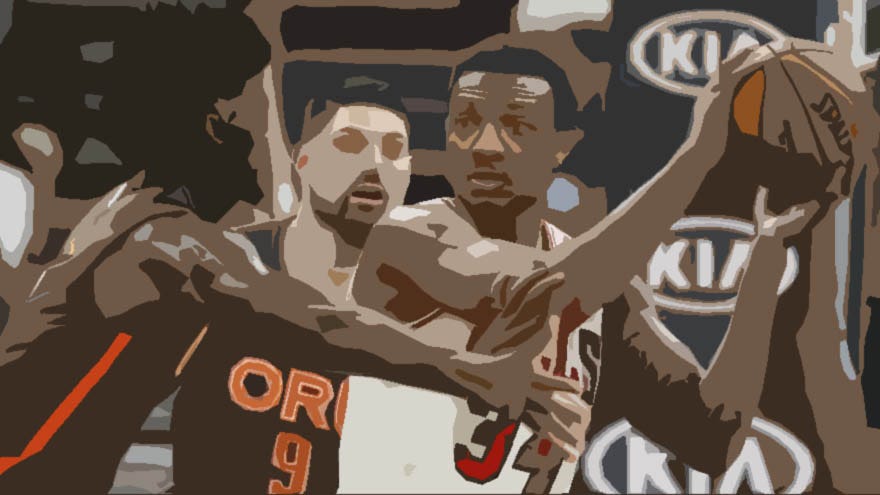 ---
If there is one player that should benefit the most from Billy Donovan replacing Jim Boylen, it's Wendell Carter Jr. It has been obvious to outside critics how underutilized Carter has been by the Bulls (Carter was also draft twitter guru Cole Zwicker's pick for breakout player last year), and Donovan's track record with how he uses big men should be a godsend for Carter. 
Carter's career arc thus far has been fairly mediocre. He's established himself as a good but foul-prone defender, an extremely solid rebounder, and a low-usage offensive player that scores mostly on putbacks and rolls to the rim. He is capable of so much more, and his talent was wildly suppressed because of the role that he was playing under Boylen. 
It's easy to say that Carter has been overhyped since coming into the NBA, and the above description is actually who he really is. It is also completely ignoring the circumstances and nuance around his situation. 
Carter's potential was evident before Boylen mangled his career. He showed flashes of shooting, hitting 41 percent of his 3's on only 1.2 attempts per game at Duke along with 43 percent of his 3's in summer league on 1.4 attempts. His 3-point shot has pretty much completely disappeared under Boylen, but his playmaking was the most tantalizing part of his offensive repertoire and that has been his most underused skill at the pro level. 
All it takes is watching a minute of his college passing highlights before you start to wonder why Carter hasn't been a hub of Chicago's offense. The Bulls finished 29th in the league in efficiency and solidly in the bottom third in passing over each of his two seasons. You're telling me that the Bulls couldn't use any of this? 
Carter did show some of that shooting and passing ability in his rookie year, both in a dominant summer league and the 24 games that he played under Fred Hoiberg. But once Boylen took over, his numbers totally shifted. He no longer even looked at the basket to shoot jumpers, and he was never put in a position to make sophisticated passing reads.

I went back and watched all of Carter's paltry 51 assists last year. It didn't take long. The vast majority came off one-option dribble handoffs (Carter would mechanically hand the ball to Zach LaVine) or offensive rebound kickouts. 
Carter's assists to the rest of his teammates on set plays were almost nonexistent. He assisted Lauri Markkanen only four times all season, a seemingly impossibly low number. Those two were supposed to be the perfect tandem for each other, but the fit has been clunky under Boylen. Not once did Carter throw a high-low pass to Markkanen for an assist, which was a staple of Duke's offense with Marvin Bagley and a read that Carter is great at. Boylen essentially took one of his best decision-makers and turned him into a ballboy on offense, corralling loose balls and handing them back to one designated player. 
This will change under Donovan, based on how he has coached over the past 24 years. Carter has gone from one of the least innovative coaches in Boylen to one that has a proven history of utilizing passing from his big men. Donovan coached slick-passing big man Al Horford at Florida, and his work with Steven Adams and Nerlens Noel this past season shows exactly what he plans to do with Carter. 
Adams and Noel are not known for their passing, but their assist numbers increased significantly under Donovan during the 2020 season. They were both used frequently in the high post as a hub of the Thunder's offense, where it was their job to make sophisticated reads. Donovan described their roles in an NBA.com feature with Nick Gallo. 
"We need to give it to [Adams], and then we need to cut and move and let him kind of dictate the pick and roll," Donovan described. "When we do that, we get over the top and we get downhill. We generally find the next player who's playing at an advantage because his guy is closing out to him."
Skim through a couple of plays in Adams' passing reel from last year, and it immediately jumps out how Carter looks like a perfect fit to slide into Adams' exact same role. Carter is a better passer than anyone the Thunder had, and even the 19 year old Duke version of him would thrive if he were allowed to make these types of reads.
There are a lot of ways in which Carter is going to be used more next season. For brevity's sake, I will highlight just one. 
One of the Thunder's staple plays was to use a Warriors classic, a split cut with a big man as the decision-maker and a guard screening for another to trigger a series of read-based actions.
Split cuts work extremely well with shooting threats and a big man who is a good decision-maker. The Bulls have the perfect personnel to run this, with Zach LaVine and Coby White utilizing the threat of each other and Carter hitting whoever is open. 
Carter should also improve defensively under Donovan, where he is already pretty solid. He doesn't look as good on paper because his raw defensive numbers took a precipitous dip under Boylen, most notably his block numbers. This was completely tied to the scheme he was played in, where Boylen took him far from the basket to pressure ballhandlers on the perimeter.
While Carter was effective in this role, it did not play much to his strengths as a force at the rim. Watch him stuff Russell Westbrook's dunk attempt as a rookie if you don't believe me.
Donovan's strategy with Adams is again instructive in how he will likely use Carter. Like Carter, Adams was effective as a blitzing big. But Donovan recognized that too much blitzing would tire out his players. 
"Obviously, it's really taxing on [Adams] to be up all the time," Donovan told Erik Horne of The Athletic. "But I also think there's certain guys you have to be up on. You have to be up on Steph Curry. You have to be up on James Harden. You have to be up on Klay Thompson. You have to be up on (CJ) McCollum. There's just certain guys, there's no way around it." 
"But there's other times where maybe we can be back a little bit where he's not exerting so much energy all the time, every possession. I think that you can't necessarily have one defense that you have and say, 'OK, this defense is going to carry us all the way through,' because you're going to play against personnel that is going to create challenges and problems for that coverage. We've got to have multiple coverages."
Donovan's strategy is common sense, but it is the opposite of what Boylen had Carter doing. You don't have to blitz the Matthew Dellavedovas of the league, and reducing that load on Carter by allowing him to drop into the paint from time to time should help both with his energy and his penchant for drawing touch fouls on the perimeter. 
Donovan's M.O. as an NBA coach has been to put his players in the best position to succeed, and he hit on that idea multiple times in his first words to the Chicago media. 
"It's going to be a player-first program in which we're going to do right by the players and put them in a position to continue to grow and be successful," Donovan said. "Strategizing style of play, how we play, how we can utilize everybody."
Every coach talks the talk of wanting to help their players look good, but Donovan has the track record to prove it. He has taken players of the same mold as Carter and turned them into studs. 
It's Carter's turn next. Instead of getting crammed into Boylen's idea of the correct and only way to play basketball, he will have a scheme personally tailored to him. This is the best chance that he has had in his pro career to show what he can really do with a coach that understands how to use him correctly. It's going to be a big year for Carter, and I'm predicting that he picks up at least a few most improved player votes by season's end.
Subscribe to my free newsletter and get updates on when I write:
---
If you would like to support my work, feel free to drop me a couple of bucks on Venmo. My username on there is Stephen-Noh-1. Thank you to everyone who has supported thus far.
Notes to Patreon users:
Thank you all for the kind words, emotional support, and contributions. Billing has been paused from June-present, and the Patreon page will be shutting down soon.

I'm going to be moving my writing from Patreon to this Substack page. You all will be automatically added to the Substack mailing list. Patreon doesn't allow for images and video, which is a big part of what I do.

WHY WON'T YOU BILL ME?!? I love my Patreon sign ups, and I love how dedicated they are about making sure I get paid. But my writing is going to be extremely sporadic while I focus on whatever comes next for me. I can't in good conscience bill for future work when it might not occur.

In the meantime, all one-off donations through Venmo at Stephen-Noh-1 are appreciated. Read for free, pay whatever you want!

Lastly, if anyone does have leads to entry-level coding jobs, full-time writing positions, or anything else basketball-related, please send them my way: Stephen.Noh@gmail.com